Innovative GSM Plug to Keep Devices Powered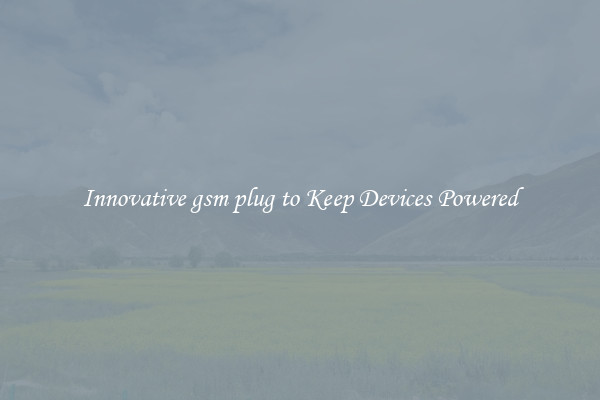 In today's world, we are increasingly dependent on our electronic devices to stay connected, be productive, and entertained. However, one common problem we all face is running out of battery power when we need it the most. To tackle this issue, an innovative solution has been introduced – the GSM plug.
The GSM plug is a smart plug that not only provides power to your devices but also comes with some amazing features that make it an indispensable gadget for modern living. This plug is designed to keep your devices powered up, no matter where you are, and ensures that you are always connected and productive.
One of the key features of the GSM plug is its ability to be controlled remotely through a smartphone app. This means you can turn your devices on or off, schedule their usage, and even monitor their power consumption, all from the convenience of your phone. Imagine being able to switch off your coffee maker while you are at work, or turn on the air conditioner before you arrive home on a hot summer day. The GSM plug allows you to do all this and more.
Furthermore, the GSM plug also acts as a surge protector, safeguarding your devices from potential damage caused by power surges or fluctuations. This feature is particularly important in regions where power supply can be unreliable, protecting your expensive electronics from potential harm.
One of the most innovative aspects of the GSM plug is its integration with the Internet of Things (IoT). This means that not only can you control and monitor your devices remotely, but also that they can communicate with each other. For example, you could program your GSM plug to turn on your lights when your alarm goes off in the morning, or to switch on your coffee maker when your morning exercise routine is complete. This level of automation and efficiency is truly transformative.
Moreover, the GSM plug can also be used as a security measure. In the event of a power outage or unforeseen circumstances, you can program the GSM plug to switch on specific devices, such as lights or alarms, to deter potential intruders or alert you to any possible danger.
The introduction of the GSM plug has revolutionized the way we approach power management. With its remote control features, surge protection, IoT integration, and security measures, it has become an essential gadget for the modern user. No longer do we need to worry about running out of battery or leaving devices unnecessarily on. The GSM plug ensures that our devices are always powered, making our lives more convenient, connected, and secure.